Did somebody ring a bell?
An earthquake rumbled through the financial markets this week and sharpened everybody's sense of risk. There's been a growing concern about excessive speculation for the past few months but that was in anticipation of markets crashing – not ripping to the upside!
Good for you if you were on the right side of a sharp move that came out of nowhere, like silver jumping $2 in 2 hours Thursday morning, but if you are on the wrong side of that kind of move you just can't know enough about what's happening (no matter who you are) to justify staying with the trade.
Market behavior doesn't have to make sense
Market psychology – what people are doing with their money – doesn't have to make sense. When investor sentiment is extremely bullish it can easily get even more bullish, or not.
The existential question, "What are we trading?" got a lot more puzzling this week. But what will the consequences be? Some folks, who happened to be in the right place at the right time, may be willing to get more aggressive but my guess is that a lot veteran traders are dialing back their exposure, reducing their size, and taking some money off the table.
Everybody knows that the major stock indices made new All Time Highs this month, that the Dow rallied nearly 5,000 points in November and December. Everybody knows the stories about waitresses and bus drivers making millions, and everybody knows this can't last forever so they're dancing close to the exits.
My old friend Bob Hoye likes to remind me that people will believe the most preposterous stories so long as the market keeps going up. I don't disagree, but I think there's a good chance that even the BTD boys are starting to have second thoughts when they look at some of these charts.
Stock market topping?
The Dow made a low for 2021 Friday. I've been short small positions in Russell, Dow and the S+P this week. I'm staying short the S+P into the weekend.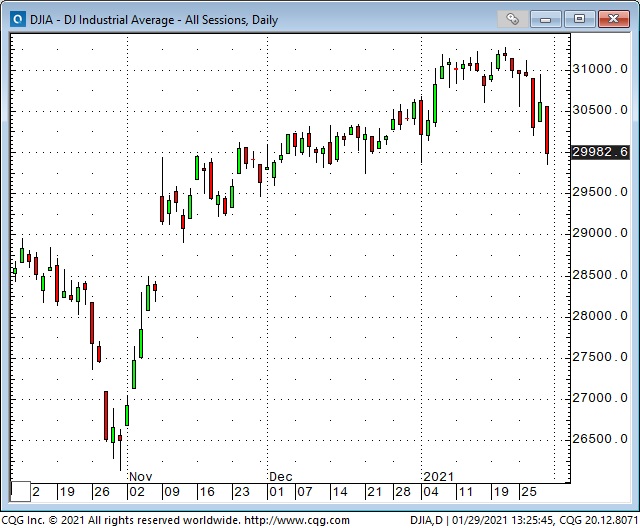 The DJ Transports closed at a 2 1/2 month low Friday.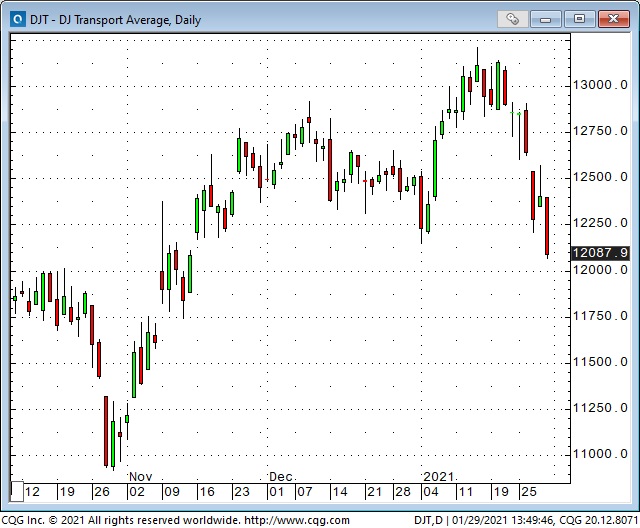 The Russell 2000 small cap index made a new All Time High early this week (up 44% in 3 months) but closed right on its lows – registering a clear Weekly Key Reversal down.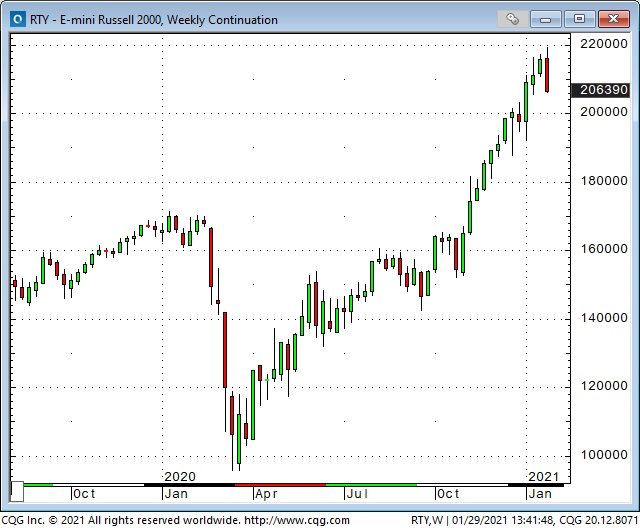 Implied option vol jumped this week.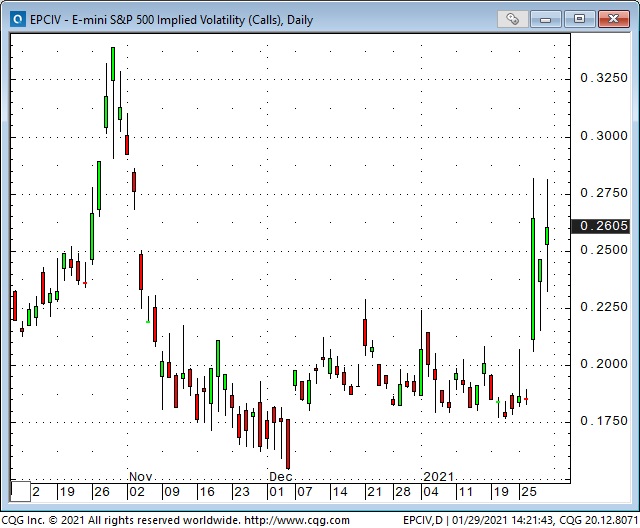 It's no surprise that money has poured into the stock market lately.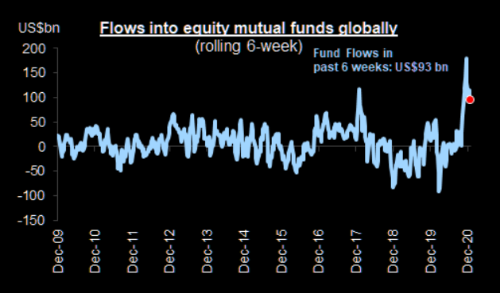 The US Dollar has been flashing a warning
I've been writing about the strong negative correlation between stocks and commodities rising the past several months while the US Dollar has been falling. To me the macro pro-risk trade since last spring has been long stocks, long commodities and short the USD. I've been writing that is a very crowded trade, ripe for a correction.
When the Capitol Building was stormed on Jan 6th the US Dollar Index hit a 32 month low and has been inching higher ever since. I've suggested that the storming of the Capitol Building was a cathartic inflection point for the USD, while the subsequent rise of the USD may be an "early warning" that the pro-risk trade is turning.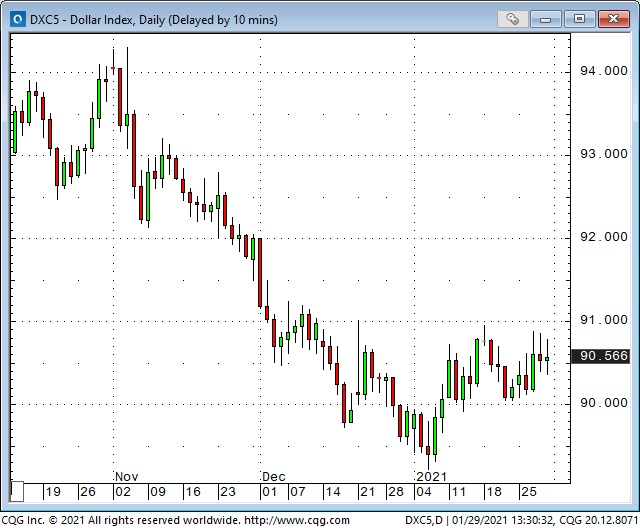 Negative sentiment against the USD has been pervasive, and building, for months – its a very crowded trade. The Commitment of Traders data shows net short speculative positioning against the USD at All Time Highs, but the Swiss Franc looks very vulnerable to a breakdown.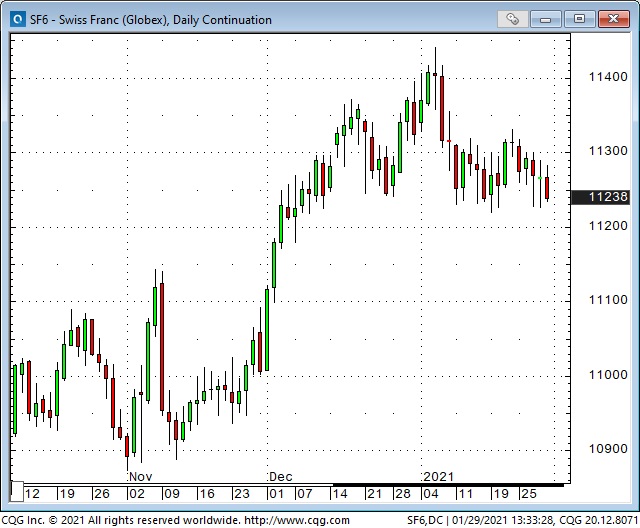 One of my favorite ways to fade pro-risk market psychology is to short the Canadian Dollar. For the past several months the CAD has been highly correlated with, 1) a rising stock market, 2) a rising commodity market, and, 3) a falling USD. I shorted it at 33 month highs on Jan 21st. I've traded in and out of the CAD since then (don't ask me why!) and remain short at the end of the week.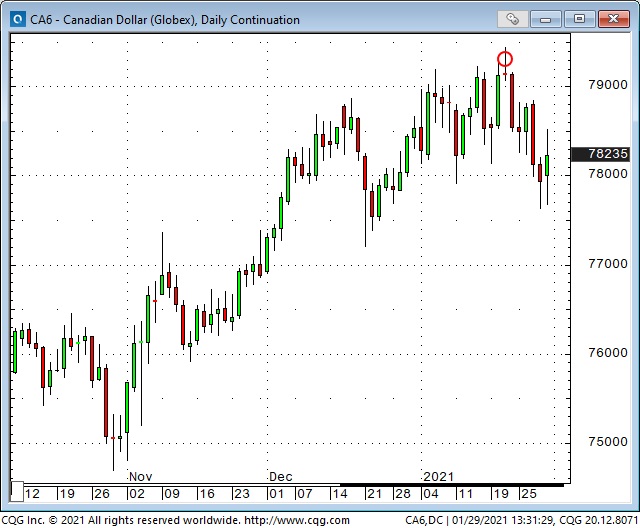 The Mexican Peso rallied in step with stock indices the past several months and may have been another early warning sign that the pro-risk trade is in trouble.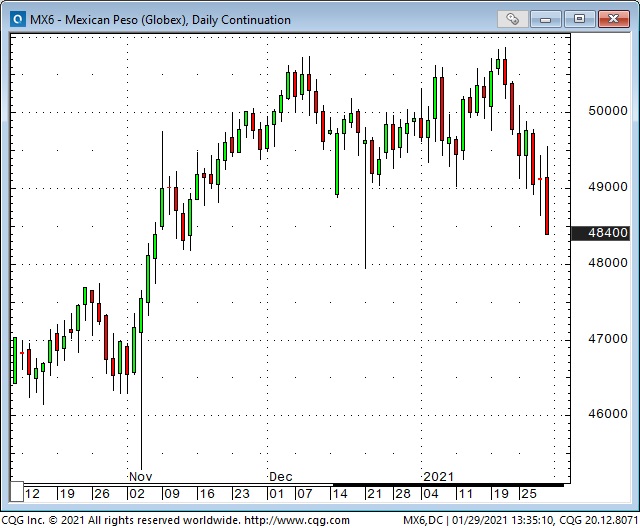 Could the US Dollar have a BIG rally from here?
I've traded currencies since the mid-1970s and it's amazing how often the USD makes a significant "turn" against the Euro (or the D-Mark in the old days) in January or February. If the USD makes a convincing breakout above 91, and if stocks and commodities trade lower over the next couple of months, the USD could have a BIG rally.
Subscribe: You have free access to everything on this website. Subscribers will receive an email alert anytime anything new is posted – usually about once a week.
Victor Adair retired from the Canadian brokerage business in 2020 and is no longer licensed to provide investment advice. This blog and everything on this website is in no way intended to be investment advice to anybody about anything.